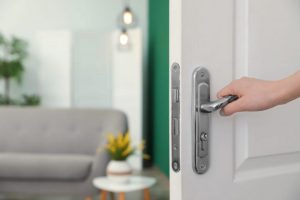 RESIDENTIAL LOCK INSTALLATION
---
Need Residential Lock Installation In NYC?
Royal Locksmith understands the need for a reliable, licensed locksmith service to help with residential lock installation. We have the skills and experience needed to deal with any new lock installation in the NYC area.
---
Why Might I Need A Fresh Lock Installation?
In a lot of situations, fresh lock installation is required due to moving to a new house or replacing doors. Perhaps you have a new garage car, or have replaced the door on your car – whatever the reason, Royal Locksmith can install fresh locks on pretty much anything! 
---
So, Now You Know Why, How About Which?
Locks come in all different shapes and sizes, so we can pretty much offer you a fresh installation of any type of lock! Still, customers sometimes ask us what their options are, so here are a few examples:
Standard Locks, Smart Locks, Knob Locks, Deadlocks, Lever Handle Locks, Cam Locks, Rim / Mortise Locks, Push-Bars, Exit-Control Locks, Card Reader Locks, Fingerprint Locks.
Naturally, the type of fresh installation will depend on factors such as what it is we are installing the lock upon to. We will talk you through all of your options when we get out to your location.
We will always endeavor to take your specific preferences into account when deciding which lock and key we use.
---
Fresh Installations, Any time Of The Day Or Night
Royal Locksmith offers our customers 24/7 service. That's right! We operate 24 hours a day, 7 days a week – so whenever you need a fresh installation service, we're here for you! We know how important it is to have a reliable, licensed locksmith company that is just a call away and can make it out to YOUR specific location. We listen to our customers!
What's more, our prices are affordable and highly competitive! Check out our prices page for further information on the specific services we offer, together with their relevant prices. 
We truly believe in great customer service! We're confident you'll love our fresh installation service. We are a professional, highly skilled locksmith service near you! We know NYC very well. 
---
Professional Service With No Damage 
We have the experience and skills needed to go ahead and complete your fresh installation with NO damage to your doors (or whatever we install the lock on)! 
---
Royal Locksmith NYC – Your Local Mobile Locksmith!
The great thing about us is that we will always come to you, you'll never has to travel to us! What's more, we will arrive fully equipped with every single part and tool we will need to complete the job tan and there! See our affordable prices.
---