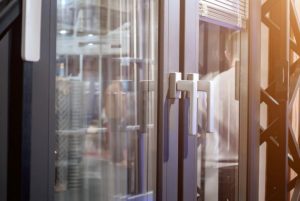 COMMERCIAL LOCK REPLACEMENT
Helping Keep Your Business Moving!
Royal Locksmith understands the need for a reliable, experienced locksmith service for your business or commercial space. This is pivotal to the overall success of your business. If you are having access issues or need your locks replaced, it can slow down the business day.
That's precisely why Royal Locksmith operates 24 hours a day, 7 days a week. We are readily available, around the clock, to assist you in your time of need.
Whether you need a lock replacement in your office, storefront, or home – we can deal with your commercial lock replacements. 
The Different Types Of Commercial Lock Replacement
Locks come in different shapes and sizes. We know that there are many different variations of commercial locks, which is why we will always arrive at your location with all of the equipment needed to replace your office locks. 
An example of the different types of lock replacements we are able to offer include but are most certainly not limited to: standard locks, smart locks, deadlocks, knob locks, lever handle locks, cam locks, rim/mortise locks, push-bars, exit control locks, card reader locks and fingerprint locks.
If you can't see the type the lock you are looking for above, check out our prices page for a more comprehensive list of the different lock replacement services we offer!
Because we are fully mobile, we are able to make it out to your location at any time. Our vast experience in our field means that we can complete the job very quickly and to a very high standard.
You won't find a more efficient locksmith service in NYC!
Does Replacing A Lock Incur Damage To The Door?
Does Replacing A Lock Incurr Damage To The Door?
No. When you use a professional, experienced locksmith such as Royal Locksmith, you can rest assured knowing that there will be no damage to all to your door.  The whole process will be very quick, and you'll get high-quality, fresh locks, all with no damage left at all.
Royal Locksmith - We've Got Your Back!
Royal Locksmiths vast experience in the locksmith field means that there's never a locksmith issue we cannot deal with! We are fully licensed (license no: 2058208-DCA) and insured. What's more, we always carry full equipment -everything we may need to complete your locksmith service!
Our entirely mobile service also enables us to make it out to you, to avoid the hassle of you having to make your own way to us.